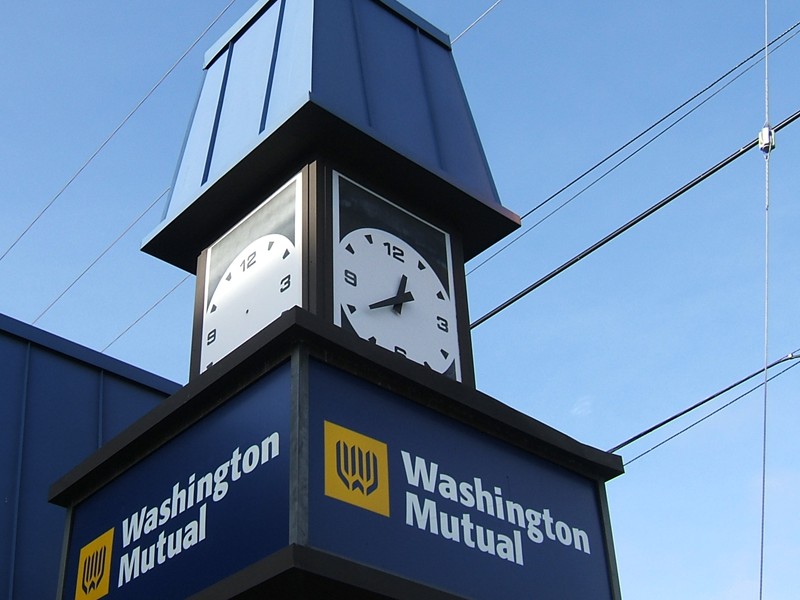 By Elizabeth Hester(Bloomberg)
Washington Mutual Inc., the biggest U.S. savings and loan, will write down the value of its home- lending unit by $1.6 billion in the fourth quarter and cut about 6 percent of its workforce as mortgage-market losses increase.
Washington Mutual, led by Chief Executive Officer Kerry Killinger, also slashed its quarterly dividend to 15 cents a share from 56 cents and forecast a loss for the quarter, according to a statement yesterday from the Seattle-based bank. Provisions for bad loans will be $1.5 billion to $1.6 billion, more than the $1.3 billion the company previously predicted. It plans to shutter 190 of 336 home-loan centers.
Fitch Ratings and Moody's Investors Service Inc. lowered Washington Mutual's credit rating, citing the firm's deteriorating mortgage assets. The bank has lost 56 percent of its market value this year, the worst performance in the 24- member KBW Bank index, amid declining U.S. housing prices and record home loan delinquencies. Washington Mutual said it plans to sell $2.5 billion of convertible stock to shore up capital.
``They're clearly concerned the industry will stay in a negative mode for an extended period,'' said Richard Bove, an analyst at Punk Ziegel & Co. in Lutz, Florida. ``The fact they're laying off so many people indicates they're concerned this is not just a one-time event.'' He rates the stock ``market perform.''
Washington Mutual fell 10 percent to $17.90 as of 11:40 a.m. today in Frankfurt trading. The stock rose 4.5 percent to $19.88 in New York yesterday before the announcement.
2010 Recovery
Fitch downgraded the firm's rating to A- from A, because of ``worsening asset quality,'' and ``extremely challenging conditions in the U.S. residential mortgage market.'' Moody's cut its rating two levels to Baa2 from A3. ``Credit losses from WaMu's mortgage operations will be noticeably higher than previously estimated,'' and the company's profitability won't ``begin to recover'' until 2010, Moody's said in a statement. Washington Mutual offered a bleak assessment of the mortgage market, estimating that industrywide home loan originations will probably shrink 40 percent in 2008 to $1.5 trillion, down from about $2.4 trillion this year. The company said it plans to cease lending through its subprime mortgage channel, and predicted that its provision for bad loans in the first quarter of next year will be $1.8 billion to $2 billion.
UBS, Citigroup
Mortgage losses have driven some of the world's biggest lenders to seek cash infusions. UBS AG, Europe's largest bank by assets, said yesterday that it would write down its subprime investments by $10 billion and raise 13 billion Swiss francs ($11.5 billion) by selling stakes to investors in Singapore and the Middle East. Citigroup Inc., the largest U.S. bank by assets, said last month that it would get $7.5 billion from the emirate of Abu Dhabi. Countrywide Financial Corp., the biggest U.S. mortgage lender, sold $2 billion of preferred stock to Bank of America Corp. in August. Washington Mutual said it would eliminate 2,600 jobs in its home-loans unit, or about 22 percent of that division. The remaining job cuts will come from corporate and support staff. The reductions will cost the bank about $140 million in the fourth quarter, according to the company's statement. The restructuring is expected to be completed by March 31, the bank said in a separate regulatory filing yesterday. Washington Mutual also plans to close WaMu Capital Corp., its broker-dealer business, as well as its mortgage banker warehouse lending unit. Lehman Brothers Holdings Inc., Morgan Stanley, Credit Suisse Group and Goldman Sachs Group Inc. are managing the convertible stock sale, Washington Mutual said.